Pat Conroy Literary Center executive director Jonathan Haupt will lead a virtual tour of the Conroy Center, highlighting exhibits that help tell the story of how a teenage military brat arriving in Beaufort in 1961 became the lowcountry's most celebrated author, and how the nonprofit Conroy Center continues Pat's legacy as writer and mentor. Transforming lives through stories, the Conroy Center is South Carolina's only affiliate of the American Writers Museum and second American Library Association Literary Landmark.
Presented in partnership between the Pat Conroy Literary Center and the Osher Lifelong Learning Institute at USCB, this tour will be shared on Zoom from the Conroy Center. Registration is required and limited to OLLI members: https://olli.uscb.edu/
Praise for our Virtual Tours: 
"I spent a fabulous hour participating in the virtual tour of the Pat Conroy Literary Center guided by executive director, Jonathan Haupt. He focused on a few exhibits and delved into the meaning behind them. Listening to Pat's words made you feel like he was coming back to life. I have been a fan for 30+ years. I look forward to the next virtual tour. Thanks for making it a great afternoon!"–TripAdvisor Review

"What a great way to learn about a legend. As a regular visitor to the Conroy Center, I thoroughly enjoyed seeing it through the eyes of the executive director and a friend, confidant, and protégé of Pat's. Jonathan Haupt led a great virtual tour and I came away with so many more insights into one of my literary heroes." —TripAdvisor Review
Website: Facebook Event Page
About our Presenter: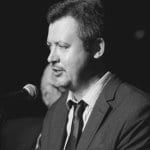 Jonathan Haupt is the executive director of the nonprofit Pat Conroy Literary Center, South Carolina's first affiliate of the American Writers Museum, second American Library Association Literary Landmark, and TripAdvisor's top-ranked destination in Beaufort, South Carolina. Haupt is also the former director of the University of South Carolina Press, where he created the Story River Books fiction imprint with the late Pat Conroy. He serves as an associate producer of the SCETV author interview program By the River and hosts the Live from the Pat Conroy Literary Center monthly podcast on the Authors on the Air Global Radio Network. Haupt's book reviews and author interviews have appeared in the Charleston Post and Courier, Savannah Morning News' Beacon magazine, Lowcountry Weekly, Beaufort Lifestyle, Southern Review of Books, and Southern Writers' Suite T blog. He is co-editor with Nicole Seitz of the award-winning anthology Our Prince of Scribes: Writers Remember Pat Conroy.

This program and others like this would not be possible without your financial help for which, as always, Pat Conroy Literary Center gratefully thanks you.