This two-hour presentation is open to Osher Lifelong Learning Institute (OLLI) members and requires advance registration through the USC Beaufort OLLI website: https://olli.uscb.edu. (Registration opens in mid-September.)
As the Poetry Foundation web page, "Poetry Goes to the Movies," shows, poetry and cinema have cross-pollinated for over 100 years. Their relationship stems from their use of the same building blocks—sight and sound, human voices affecting language, and the compression of space/time. Both art forms penetrate one's mind with multiple functions simultaneously, a drove of stimuli, grazing the slopes of one's understanding. Poems and film both dwell in us, as audience, and we in them. This workshop will use the language of film to examine poems by Pound, Bishop, Kunitz, Merwin, William Carlos Williams, Keats, and Coleridge. Its aim is to both increase technical understanding and provide new approaches to verse composition.
Website: Facebook Event Page
About our Instructor: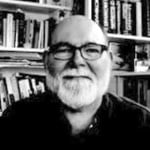 Curtis Derrick taught for 43 years, covering multiple tiers in academe, mostly recently English and film at Midlands Technical College. He is the designer of the online poetry tutorial for CTY/Johns Hopkins and his poetry has won fellowships and appeared in journals and anthologies.