Pat Conroy wrote that "the poets of the world occupy a place of high honor in my city of books." Pat's brother Tim, a poet and retired educator, explores Pat's lifelong relationship with poetry as a reader, as a self-described failed poet, and as a writer who found a creative outlet for the rhapsody and rhythms of poetry in his iconic lyrical and descriptive prose. This presentation fosters a new appreciation for Pat's admiration of poetry, for his dedication to the writing craft, and for the myriad ways in which poetry shines through Conroy's storied prose.
This two-hour presentation is only open to Osher Lifelong Learning Institute (OLLI) members and requires advance registration through https://olli.uscb.edu. Seating is limited.
Website: Facebook Event Page
About our Presenter: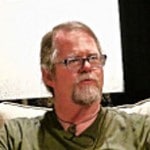 Tim Conroy is a poet and former educator. His work has been published in literary journals, magazines, and compilations, including Fall Lines, Jasper, and Marked by Water. In 2017, Muddy Ford Press published his first book of poetry, Theologies of Terrain, edited by Ed Madden, poet laureate of the City of Columbia. A founding board member of the Pat Conroy Literary Center, established in his brother's honor, Tim Conroy is a contributing writer to Our Prince of Scribes: Writers Remember Pat Conroy.