The Pat Conroy Literary Center's Visiting Writers Series welcomes Michel Stone, author of Border Child, a new novel exploring the intersections of immigration, empathy, and the American Dream, Michel will appear in conversation with Scott Graber, novelist, lawyer, and Pat Conroy's Citadel classmate. Sponsored in part by the Pulpwood Queens book club and presented in partnership with the Technical College of the Lowcountry's MacLean Hall auditorium (bldg 12), this event is free and open to the public. Books will be available for sale and autographing thanks to NeverMore Books.
"A gripping and politically savvy look at the human impact of current immigration policy and an honest examination of the perils facing desperate immigrants as they travel north."—Kirkus Reviews, starred review

"There is never a dull moment in this lyrical, engrossing novel . . . Particularly important reading in our current political climate."—Library Journal

"Border Child is an important and timely must-read! Michel Stone writes with confident authority about the heart wrenching experiences of a young Mexican couple desperately seeking their child, lost at the border. As the reader journeys with them, a deeper, meaningful appreciation of their culture, decisions, and humanity takes root in our heart. Border Child is a cross-cultural tour de force."—Mary Alice Monroe
Website: Facebook Event Page
About the Author: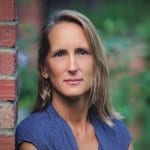 Michel Stone is the author of the novels The Iguana Tree and Border Child. She has published more than a dozen stories and essays in various journals and magazines and her work has appeared numerous times in the Raleigh News & Observer's Emerging Southern Writers series. Stone is a 2011 recipient of the South Carolina Fiction Project Award. She lives in Spartanburg, SC.
About the Interviewer:
Attorney Scott Graber lives and writes in Beaufort, SC, with his wife, the artist Susan Graber. A Citadel classmate and longtime friend of Pat Conroy's, Graber is the author of the novels Malachi and Ten Days in Brazzaville.