"A story untold may be the one that kills you."–Pat Conroy, Beach Music
In this follow-up workshop to Memoir Might Save Your Life, we will cover structuring the memoir, with a detailed look at several books and the different ways memoirists handled narrative, including stories with multiple narrators. We'll discuss techniques for creating the topics you want to cover and ways to weave those into the narrative, as well as how to keep reader attention through years of time and life events, and how to handle flashbacks. We'll also have opportunity for participant readings and supportive feedback.
Saturday June, 20; 1:00-4:00 p.m. $40/person. Limited to 15 participants–and open to those who attended the previous Memoir Might Save Your Life workshop and first-timers.
Link for Tickets: www.eventbrite.com
This workshop will be held as an online video conference call through Zoom. Details for joining the video call will be provided to all participating writers after registering. Course materials will be provided as email attachments.
Website: Facebook Event Page
About our Instructor: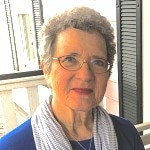 Estelle Ford-Williamson, began her life of writing books by editing and publishing her aunts' memoirs of growing up in north Georgia; one was the wife of one of the last horse cavalrymen at Fort Oglethorpe. She subsequently wrote a historical novel, Abbeville Farewell: A Novel of Early Atlanta and North Georgia, and co-wrote Seed of South Sudan: Memoir of a Lost Boy Refugee with Majok Marier. She led workshops in memoir at Lou Walker Senior Center in Decatur, GA, and helped publish two anthologies of students work. She is shopping a new novel, Rising Fawn, and has won recognition with short stories in Short Story America, Vol.6 and the Petigru Review.Hope, Inc.

This program and others like this would not be possible without your financial help for which, as always, Pat Conroy Literary Center gratefully thanks you.