Our monthly virtual Open Mic Night is hosted by Brooke McKinney and presented on Zoom in partnership between the Pat Conroy Literary Center and the South Carolina Writers Association. Our featured writer for June is John G. Williams, author of the newly released novel Too High in the Wind. Join us live on the Conroy Center's Facebook page for readings by a pantheon of participating writers from in and beyond our South Carolina lowcountry.
Online with Facebook Live
Thursday, June 9, 2022 at 6 PM – 7:30 PM EDT
Price: Free · Duration: 1 hr 30 min
Interested in reading as part of Open Mic? Contact host Brooke McKinney at brooke@patconroyliterarycenter.org
We want to build our community of writers and an appreciation for the art and talent of new, emerging, and long-time writers. Thank you for supporting this partnership!
About our featured writer: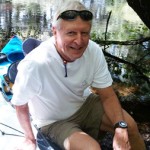 John G. Williams is from Yemassee, SC, a small town along the South Carolina coast. At seventeen, anxious for travel and bored by school and small town life, John enlisted in the Marines. Four years later, after completing tours in Europe, the Caribbean, and Southeast Asia, he returned to South Carolina where he attended The Citadel and graduated from Charleston Southern University.
Now retired, John has worked as a teacher, stock broker, and realtor. He also served twenty-six years in the South Carolina Army National Guard.
John now lives in Beaufort, SC, with his wife Marion. He's currently working on his next novel, tentatively titled Pocotaligo Point.

This program and others like this would not be possible without your financial help for which, as always, Pat Conroy Literary Center gratefully thanks you.