Our monthly virtual Open Mic Night is hosted by Brooke McKinney and presented in partnership between the Pat Conroy Literary Center and the South Carolina Writers Association. Our featured writer for June is novelist M. Z. Thwaite. Join us live on the Conroy Center's Facebook page for readings by a pantheon of participating writers from in and beyond our South Carolina lowcountry.
Online with Facebook Live
Thursday, June 10, 2021 at 6 PM – 7:30 PM EDT
Price: Free · Duration: 1 hr 30 min
Interested in reading as part of Open Mic? Contact host Brooke McKinney at brooke@patconroyliterarycenter.org
We want to build our community of writers and an appreciation for the art and talent of new, emerging, and long-time writers. Thank you for supporting this partnership!
About our featured writer: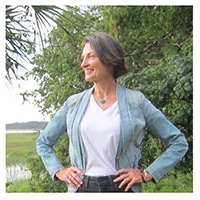 M. Z. Thwaite (Martha Thwaite Weeks) grew up Atlanta, Georgia, and is a graduate of the University of Georgia.
She is the author of the Tidewater series of novels: Tidewater Rip (2015), Tidewater Hit (2017), and the newly published Tidewater Tempest. Her short story "Flight" was chosen for South Carolina's Petigru Review in 2015 (volume 9). She has published essays in the Philadelphia Inquirer and Beaufort's Lowcountry Weekly. She is a member of several writing groups and enjoys leading private writing workshops. She is also a past president of the Sage Society in Beaufort and serves on the board of the Beaufort Rowing Club. www.mzthwaite.com

This program and others like this would not be possible without your financial help for which, as always, Pat Conroy Literary Center gratefully thanks you.