The author of "The Prince of Tides," "The Great Santini" and "The Water Is Wide," Pat Conroy (1945–2016) is synonymous with the Lowcountry.  Executive Director of the Pat Conroy Literary Center Jonathan Haupt will discuss Conroy as reader—focusing on the importance of his mother, Peggy Conroy, in fostering Pat's love of reading and of libraries and continuing that great love over the course of a lifetime. Through video clips, photographs and published and unpublished writings by and about Conroy, this presentation welcomes attendees into the book-filled world of one of America's most beloved writers.
The program also includes an overview of the nonprofit Pat Conroy Literary Center and the annual Pat Conroy Literary Festival, October 29-November 3.
Cost is $7/person and reservations are required by calling (843) 689-6767 ext. 223
Website: Facebook Event Page
About our Presenter: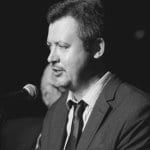 Jonathan Haupt is the executive director of the Pat Conroy Literary Center, the founding director of the annual Pat Conroy Literary Festival, and the former director of the University of South Carolina Press. With novelist and artist Nicole Seitz, he is co-editor of the anthology Our Prince of Scribes: Writers Remember Pat Conroy, Haupt's articles, book reviews, and author interviews have appeared in the Charleston Post and Courier, Beaufort Lowcountry Weekly, Beaufort Lifestyle magazine, Pink magazine, Shrimp, Collards & Grits magazine, Fall Lines, and the Conroy Centers Porch Talk blog. He serves as an associate producer and consultant to the SCETV author interview program By the River, on the board of directors of the South Carolina Academy of Authors and the Friends of South Carolina Libraries, on the American Writers Museum affiliates steering committee, and on the South Carolina Humanities advisory committee.

This program and others like this would not be possible without your financial help for which, as always, Pat Conroy Literary Center gratefully thanks you.