I had to write this book to explain what happened and how it affected me…. I knew I had lost a relationship of infinite and timeless value, and one that I would never know again. — Pat Conroy, The Water Is Wide
The Abbeville County Public Library will host a free public book club discussion of Pat Conroy's 1972 teaching memoir The Water Is Wide, led by Jonathan Haupt, executive director of the nonprofit Pat Conroy Literary Center. (For current COVID-19 safety protocols for library events, please contact the library directly at 864-459-4009.)
Thursday, October 7, 2021 6:00 pm – 7:00 pm
In the 1969-1970 school year, Pat Conroy (1945-2016) became the first white school teacher on the isolated South Carolina sea island of Daufuskie, accessible only by boat. There, at the two-room Mary Field School, he taught 18 native island children in grades 5 through 8. It was a year that changed Conroy's life and introduced his students to a larger world they did not yet know was theirs. Conroy was dismissed by the school board a year later, prompting a court case, national news coverage, and his memoir. An inspirational story of the difference one remarkable teacher can make in the lives of students, The Water Is Wide was twice adapted for film, first as the 1974 film Conrack and again in 2006 as The Hallmark Hall of Fame's The Water Is Wide.
Website: Facebook Event Page
About Our Presenter: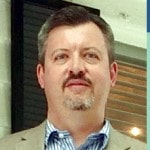 Jonathan Haupt is the executive director of the nonprofit Conroy Center and the former director of the University of South Carolina Press, where he created the Story River Books fiction imprint with Pat Conroy, named by Garden & Gun magazine as one of "the top ten things to love about the South." Haupt's book reviews and author interviews have appeared in the Charleston Post and Courier, Lowcountry Weekly, Beaufort Lifestyle, Savannah Morning News' Beacon magazine, Pink magazine, Southern Review of Books, and Southern Writers Magazine's Suite T blog. He is co-editor with Nicole Seitz of the anthology Our Prince of Scribes: Writers Remember Pat Conroy, the recipient of seventeen book awards. He is host of the Live from the Pat Conroy Literary Center podcast on the Authors on the Air Global Radio Network and an associate producer of the TELLY Award-winning ETV author interview program By the River. In 2020, Haupt was recognized with the Doug Marlette Literacy Leadership Award presented by the Pulpwood Queens, the largest book club in the U.S.

This program and others like this would not be possible without your financial help for which, as always, Pat Conroy Literary Center gratefully thanks you.