Tuesday September 20, 2022 – 5-6:00 PM EDT
Price: Free · Duration: 1 hr
Location: NeverMore Books (910 Port Republic Street) | please call NeverMore to reserve your seat: 843-812-9460
NeverMore Books, in partnership with the nonprofit Pat Conroy Literary Center, will host an evening with Savannah-based novelist Taylor Brown, author of Wingwalkers, on Tuesday, September 20, at 5:00 p.m. This free event will be held at NeverMore Books (910 Port Republic Street) with books available for sale and signing.
Please call NeverMore to reserve your seat: 843-812-9460.
The author conversation will also be live-streamed on the Conroy Center Facebook page.
Website: Facebook Event Page
ABOUT WINGWALKERS
"Vivid writing pops off the page in this sixth novel from Brown. A wondrous tale, mixing fact and fiction, with colorful details of the Depression-era United States as backdrop."—Library Journal, starred review
"Taylor Brown writes with rare energy, spinning out history with the force of myth. Wingwalkers thrusts us into the lives of two daredevil aeronauts during the Great Depression, who happen to awaken and inspire William Faulkner. Brown's vision is as fresh and audacious as his language. Gutsy, original and powerfully imagined."—Paula McLain, author of The Paris Wife and When the Stars Go Dark
Award-winning, critically acclaimed author Taylor Brown "has quickly established himself in the top echelon of Southern writers" (Booklist, starred review) with novels that have been described as "powerful in concept and execution" and "American literature at its best" (Kirkus, starred reviews), "magnificent" (Publishers Weekly), and "not to be missed" (Library Journal, starred review). His newest novel is an epic historical novel about a female wingwalker and her husband, a former World War I ace pilot, and their journey across Depression-era America performing acts of aerial daring, while a young William Faulkner attempts to take creative flight.
"They were over Georgia somewhere, another nameless hamlet whose dusty streets lay flocked and trembling with the pink handbills they'd rained from the sky that morning, the ones that announced the coming of DELLA THE DARING DEVILETTE, who would DEFY THE HEAVENS, shining like a DAYTIME STAR, a WING-WALKING WONDER borne upon the wings of CAPTAIN ZENO MARIGOLD, a DOUBLE ACE of the GREAT WAR, who had ELEVEN AERIAL VICTORIES over the TRENCHES OF FRANCE."
Wingwalkers is one-part epic adventure, one-part love story, and one large part American history. The novel follows the adventures of Della and Zeno Marigold, a pair of Great Depression barnstormers who are funding their journey west by performing death-defying aerial stunts from town to town, and braids them with the real-life exploits of author (and thwarted fighter pilot) William Faulkner. When their paths cross during a dramatic air show, there will be unexpected consequences for all.
Brown has taken a tantalizing tidbit from Faulkner's real life―an evening's chance encounter with two daredevils in New Orleans―and set it aloft in this fabulous novel. With scintillating prose and an action-packed plot, he has captured the true essence of a bygone era and shed a new light on the heart and motivations of one of America's greatest authors.
ABOUT THE AUTHOR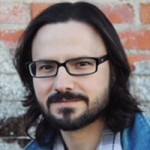 Taylor Brown grew up on the Georgia coast. He has lived in Buenos Aires, San Francisco, and the mountains of western North Carolina. He is the recipient of the Montana Prize in Fiction, a three-time finalist for the Southern Book Prize, and the 2021 Georgia Author of the Year. His novels include Fallen Land, The River of Kings, Gods of Howl Mountain, and Pride of Eden. He lives in Savannah, Georgia.

This program and others like this would not be possible without your financial help for which, as always, Pat Conroy Literary Center gratefully thanks you.