In partnership with NeverMore Books, the Conroy Center will host a reading by award-winning novelist Mark Powell from his new book Firebird on Monday, December 9, at 5:30 p.m. Free and open to the public, the reading will be followed by a book signing.This event will be held at the Pat Conroy Literary Center (905 Port Republic St., Beaufort).
Mark Powell's explosive literary thriller delves Firebird into the 2014 Ukraine-Russia conflict. An arms deal gone south takes you into the underground world of political operatives, Ivy League criminals, and a hedge fund billionaire with eyes on the presidency.
Website: Facebook Event Page
Praise for FIREBIRD
"'War is a racket,' it's been said many times and in many ways but rarely with as much verve as Mark Powell harnesses in his masterful new novel Firebird."—Elliot Ackerman, author of Waiting for Eden

"An unrelenting thrill ride across the globe and deep into the political intrigue and machinations that drive our lives without our knowing; this is a thriller with a conscience that will change how you see the world. Mark Powell is a fearless and master storyteller and Firebird is an absolute powerhouse of a novel."—Patricia Engel, author of The Veins of the Ocean and winner of the Dayton Literary Peace Prize
About our Presenter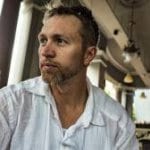 Mark Powell has been called the "best Appalachian novelist of his generation" by Ron Rash, and a writer "on the verge of greatness" by Pat Conroy. He is the author of six novels, including most recently, Small Treasons and Firebird (forthcoming). Powell has received fellowships from the National Endowment for the Arts, the Breadloaf and Sewanee Writers' Conferences, and in 2014 was a Fulbright Fellow to Slovakia. In 2009 he received the Chaffin Award for contributions to Appalachian literature. He holds degrees from Yale Divinity School, the University of South Carolina, and the Citadel. He lives in the mountains of North Carolina where he teaches at Appalachian State University.

This program and others like this would not be possible without your financial help for which, as always, Pat Conroy Literary Center gratefully thanks you.